Writers Work Review – Is It a Scam?

Nowadays more and more people are looking to writers to pad their website with content through blog posts, copywriting, or just general product descriptions. With the rise in online business, the demand for writers has skyrocketed. Writers Work is one solution to help you take advantage of that demand.
Writers work is an all-in-one platform designed for helping its users start a writing career. Today, we will be reviewing said platform to see if it lives up its claims and hype. The review will be structured around each of their major selling points and how truly those reflect the real life results.
Disclaimer
Before we start we want to make it clear that we are affiliated with Writers Work and have been a member of their site for over 2 years.
All-in-one platform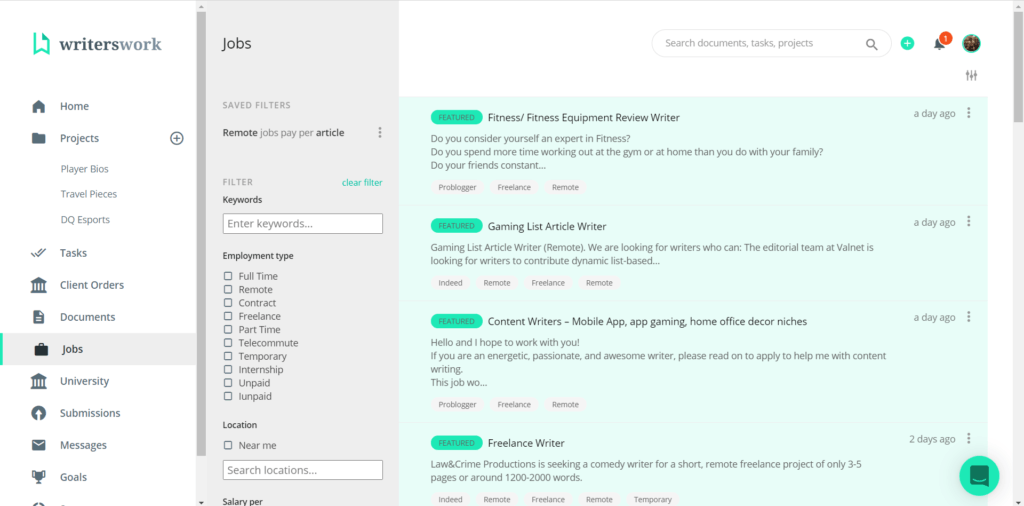 This is their main slogan to promote the site and services offered. The services offered include career training, writing tools, an online portfolio and more all for a monthly price. This is a true claim and actually kind of lowers the value of what they offer. On top of the other tools is a platform for finding writing jobs.
Depending on what your niche/specialty is for writing, they will create a list of jobs that suit your portfolio and experience, making it easy to find jobs as a freelancer or with a long term contract. The package overall contains more than enough tools to help someone land a job and this is what they claim to have, so that sticks.
Career Training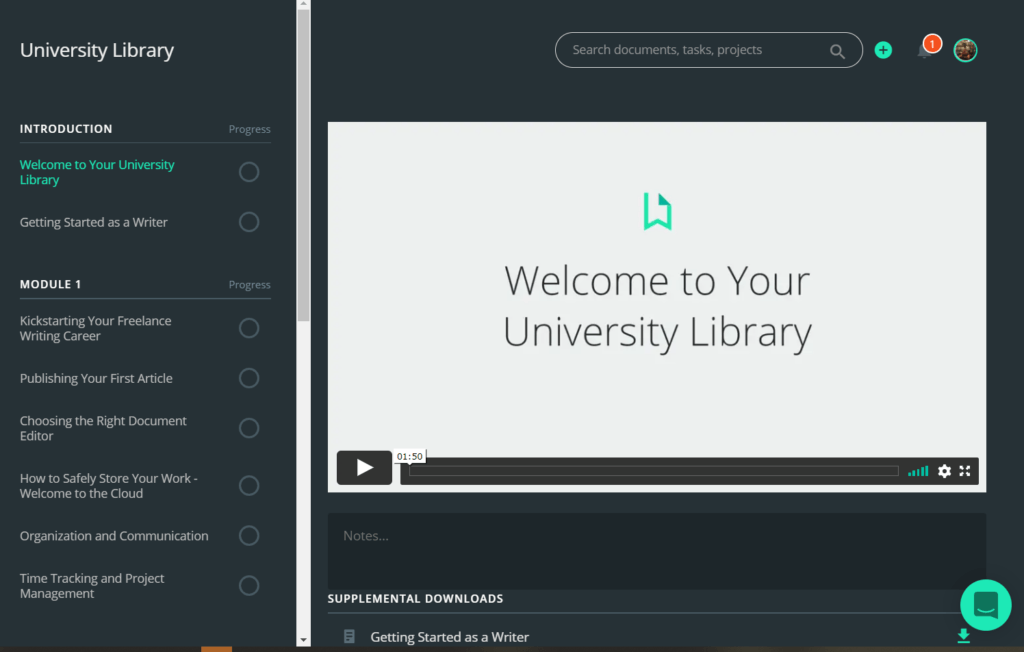 On the subline of the site, a lot of people notice the enticing $35/40 an hour tag and instantly click thinking they will be able to snag a job instantly once they sign up. This has led to a lot of questions on whether the site is a scam or not. The tricky part with their wording here is that yes, you can definitely get a job like that relatively quickly, but you will not instantly find one without a portfolio or qualifications of some kind just by signing up.
The career training they mention is pretty in depth but not when compared to a lot of other platforms that help you start a business. There are 3 modules that briefly cover how to get your writing consistent and quality, how to get your writing noticed, and how to find the jobs that will convert the best.
Personally, I think the university could use some updating with more in depth descriptions of certain jobs and tactics. In the 2 years I've been a member, I've not seen a change in their career training which doesn't seem right. Other than that, I'd give their training a passing grade because it definitely gets the job done.
Writing Tools
This for me, was the best part of the membership to Writers Work. Their writing tools are unlike any other platform I've used to help my writing. The tools include multiple organization methods, tasks to keep you on track, statistics to see how you progress, a portfolio, and many more. These tools can be overwhelming to beginners but they help growth substantially.
Writers Work makes use of a grammar tool designed to catch over 2000 common mistakes and can highlight all of it after you submit an article to the program. The grammar tool not only fixes grammar but also helps to make your writing flow better and read like quality content. The tools go above and beyond in other ways as well including audio tracks to help you focus while you write. I personally use the audio tracks when I have to write on the go, like in an airport.
The tools provided I would give a perfect score because they really go above and beyond what you'd expect from a writing resource like this.
Portfolio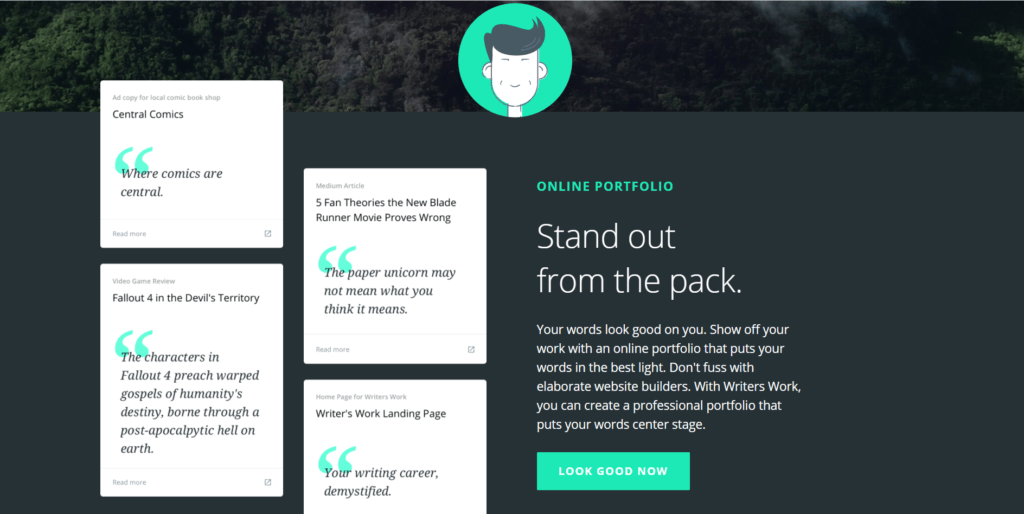 If anyone is looking to create a career out of writing a portfolio can be a big make or break factor in how you start. Writers Work creates a portfolio for you and actually stylizes it as well. Having a portfolio like that makes your application stand out among others, raising your chances at getting that job. There are other ways to create a portfolio that are better than this, but since it comes included with the service, there is no down side to using it.
The best part of the portfolio is that they will help your work get noticed by sites who need content similar to what you wrote. When that happens, you can get paid directly from Writers Work's platform and have your work published as a freelancer. When your writing gets noticed, you will have more opportunities as you move forward.
The overall package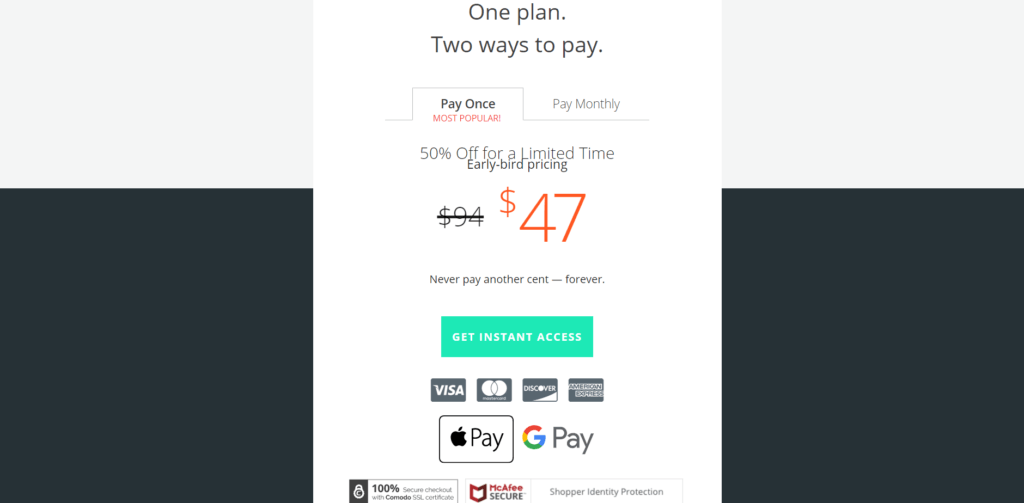 Now, after reading all this and seeing that it is a monthly subscription, it might seem like the price would be absurd. Luckily, Writers Work comes with a price tag of $15 a month. It's important to realize that this means the platform should start to pay for itself within a month or 2 tops. Most people can find copywriting jobs within that time utilizing the tools on the platform.
The most important thing to know about this is that it WILL NOT DO THE WORK FOR YOU. This platform is based on the premise that they provide you the tools and you use them to maximize the efficacy of your own work. You need to diligently and consistently write while using Writers Work to see success. Their marketing can be misleading about this and many people take it as a scam when they can't find a job instantly.
This is why I recommend their other payment option to most people. Instead of paying the $15 a month, you can pay $47 and have access to the platform for life. The only reason I would recommend the $15 option is if you're not sure you want to commit to a career as a writer. Writing takes time and practice to get used to so while you can see results in 1-2 months, you probably won't be making the big bucks until 6 months or so in with a good portfolio.
The Verdict
Overall, I would give the Writers Work experience a solid 8/10. Their product overall is high quality but the lack of updates seems strange as a concept when there are monthly subscribers. There are however, premium lessons if you want to jump over that pay wall but the base product is more than enough to start a business as a writer for sure. While the tools are top notch, there are questionable choices in the User Interface (UI) that make finding certain things difficult. For example, adding documents to a project takes extra steps to complete other than just moving said document to the project. The grammar tools are fantastically implemented and don't get in the way of writing but sometimes it feels like some functions are missing. Indenting, ability to italicize/bold from the keyboard, and other small functions are not there so I often export my writing to google docs before fully publishing it. Formatting is important but hard to keep track of on Writers Work.
8/10 Overall Score, Not a Scam
To my readers on this site I would recommend this platform but not by itself. The best way to get the most bang for your buck is to start a blog of some kind and use that to monetize your writing done on this platform. You can use your portfolio to get jobs and have them publish your work yes, but why not publish some of it yourself? This way none of the work is wasted and it can all go towards your goal of becoming financially free and stable! A lot of bloggers also make use of affiliate marketing so learn more about that here
Getting started at Writers Work is easier than ever with their discounted membership price going from $94 to $47.